Advocare Recipes
Advocare Recipes
Advocare Challenge Recipes
So you decided to start the AdvoCare Challenge and are now asking yourself what are some 24 Day Challenge recipes I can use while on the plan.
I've got you covered….I'm going to give you some recipe ideas, a 24-Day-Challenge-Cookbook, and some 24 Day Challenge Menu ideas, including grocery ideas!
Plus I am going to personally try a few of the new recipes recommended and give you an insider review on the outcome!
I don't know about you but with 4 kids and not a lot of time, I really want to make dinner easy and stress free!  When you add too much prep and cooking time involved you've lost me……
So I'm on the lookout for simple yet yummy meal ideas that the whole family will like but can still be used as Advocare Recipes.
Tonight I made Marmalade Garlic Chicken  different from the slow cooker marmalade curry chicken recipe.  Here was the recipe and how it turned out.  You can find details of the recipe courtesy of Greg's Chicken on www.Fiestie.com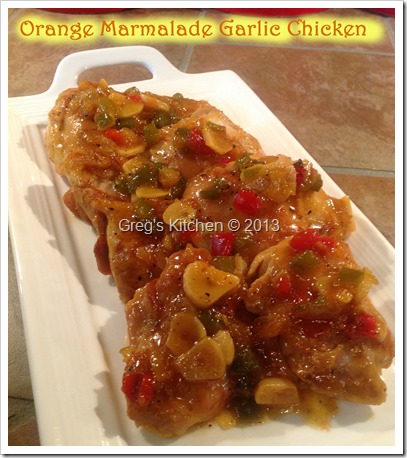 Ingredients:
2 teaspoons olive oil
4-6 chicken thighs
1 small green pepper –diced small
1 small red pepper–diced small
1/2 sweet onion –diced small
8 cloves garlic – sliced thin
1/2 teaspoon salt
1 teaspoon ground black pepper
1/2 teaspoon cayenne pepper (optional)
1/4 teaspoon ground ginger
1 cup orange marmalade- low sugar version
1 cup water
In large sauté pan heat olive oil over medium high heat.
Add chicken and brown on both sides.  You don't have to cook all the way through, just brown.
Once browned remove chicken from pan and add the onion and peppers. Sprinkle with salt and pepper and sauté till translucent.
Reduce heat to low and add the garlic and sauté 5-7 minutes.  Do not use high heat, and make sure you watch the garlic so it does not burn.
Add chicken back to pan along with the cayenne, ginger, marmalade and water.  Stir to thin the marmalade.
Reduce heat to low and cover, cook 10-12 minutes.  Remove lid and cook and additional 7-10 minutes over medium heat to thicken the sauce.
So I changed mine because my kids are not crazy about the peppers or onions!  Makes life a little more difficult around here!
I also used the no sugar Marmalade which I changed in the above recipe.  I used brown rice and a side of smashed avocados.  Here is my pic:
 Maybe not the best picture but it turned out really good.  Everyone loved it!  Even my picky eaters, so that's a plus.  See you don't have to omit tons of items or be restricted to only a few things to eat on this lifestyle change.  You can still eat healthy and give your family the same food you eat.
Again, it's more about eating healthy and less about a diet…..
More Advocare Recipe ideas
Here is a great website made just for the 24 Day Challenge with tons of extra recipe ideas.
It is the Advocare Tumblr page with recipe ideas.
Here is my  Challenge recipes on Pinterest.
So I would love to see pics of some of your healthy meals you are fixing on the Advocare 24 Day Challenge!
If you would like to purchase a membership (kind of like Sams or Costco) to get 20% off your orders you can sign up under the Become a Distributor.

If you plan on selling as a distributor I am giving you FREE marketing training on some different ways to grow your business fast!
As always if you have any questions please leave a comment below and I will get back to you!
With the new 24 Day Challenge Email coaching, you will get recipes, instructions, and tips daily sent to your inbox.  Just purchase the 24 Day Challenge and I will send you an email to get you started!
[p1vc-video]
Your Health and Wellness Coach,
Joanna Bostwick